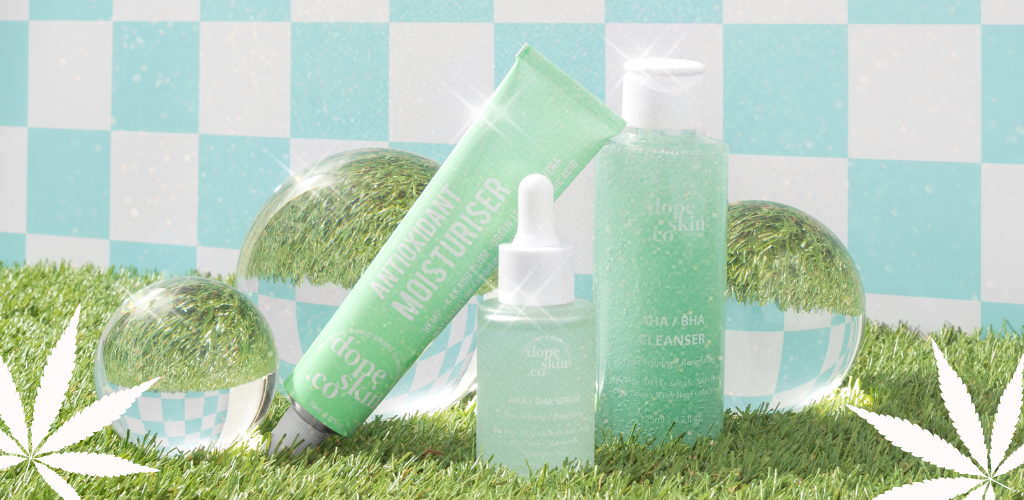 Hemp Oil for Skin - The Benefits of Hemp Oil for your Skin
First thing's first, let's debunk the myth that hemp oil can get you high.
Hemp oil, sometimes referred to as hemp seed oil, contains between 0% and 0.3% THC, the psychoactive component of the cannabis plant. This amounts to practically nothing, which means if you were hoping the use of hemp oil comes with an extra high, you'll be sorely disappointed.
The second clarification that needs to be made: hemp oil and CBD oil are not one and the same.
Cannabidiol (CBD) oil is an extract of the cannabis plant, whereas hemp oil is the product of cold-pressing hemp seeds. The latter is typically unrefined and comes out as a clear green hue.
Now that you know what exactly hemp oil is, let's move onto what matters most: The Hemp plant really is a super-plant that has an extremely long list of health benefits. So let's get down to it, why is hemp so dope for our skin?
What are the benefits of Hemp?
Hemp oil is filled with antioxidants: Hemp contains a multitude of antioxidants in very high levels; specifically vitamins A, C, and E, as well as fatty acids like gamma-linolenic acid (GLA).
We all know the countless benefits that come from antioxidant-rich skincare - brightening your skin tone, reducing signs of aging, fighting free radicals to name a few.
Hemp oil regulates oil production: Hemp oil is non-comedogenic, allowing it to hydrate the skin without clogging pores. This is one of the reasons that many dermatologists recommend hemp oil for acne.
It is able to regulate oil production by preventing the skin from overproducing oil, which can cause breakouts. By comparison, coconut oil, flaxseed oil, and palm oil all have very high comedogenic ratings, which means that those with sensitive skin will be more likely to experience acne when using skincare products with these ingredients.
Hemp oil is an anti-inflammatory powerhouse. Hemp seed oil is full of healthy fats, including omega-6 and omega-3 fatty acids, which have powerful anti-inflammatory properties.
Thus, hemp oil can be used to calm inflammation caused by acne, psoriasis, or eczema. In addition, these fatty acids prompt the growth of new skin cells, which keeps the skin hydrated and nourished.
Hemp oil has anti-aging properties. Hemp oil can help reduce fine lines and wrinkles, as well as prevent signs of aging. It contains linoleic and oleic acids, which both play a vital role in maintaining youthful, healthy skin.
Hemp oil can help with skin repair. Hemp seed oil uniquely contains a complete amino acid profile. Amino acids carry out many important bodily functions, including giving skin cells their structure and are essential for healing wounds and repairing tissue.
In case you're still not convinced, adding hemp to your daily skincare regime will leave your stressed, dehydrated, and damaged skin feeling rejuvenated, supple, nourished and more youthful. What's not to love about that?
All Dope Skin Co products contain hemp seed oil or hemp extract, which is made in-house using organic, Aussie-grown Organic hemp plants.
Check out our our Organic Hemp skincare collection today.